in use since 2015 at Kaleen Dental Care & Facial Aesthetics
In the last ten years, dentistry has triumphed in many frontiers such as Conebeam CT, CAD-CAM, sleep medicine and laser dentistry. Thanks to the advance in computer technologies and the forward thinking of dentists worldwide asking more for their profession and patients.
KDC&FA has come on board of this fast-moving train and continues to evolve, serving the best to its patients.
Diode soft tissue lasers has been in use and become an inseparable part at KDC&FA since 2009.
In late 2015, KDC&FA installed its first hard and soft tissue laser, LightWalker® ATS by Fotona.
Why FOTONA®
Fotona® was established in 1964 in the same year laser was invented and has remained at the forefront of laser development ever since. Its commitments to continued support, research and collaboration with numerous universities around the world keep Fotona® on top of its game. Choosing the best for patients has always been the policy of Kaleen Dental Care & Facial Aesthetics – KDC&FA.
Fotona® made its first dental laser in 1993, the only dental laser in the world that has two wavelengths. It allows efficient workflow in both hard and soft tissues.

LightWalker® ATS is the latest dental laser made by Fotona® and is unique in its own class.
Across all disciplines of dentistry, LightWalker ATS® is very capable if not better in performance and results.
There are over eighty procedures it can perform:
Restorative dentistry with no post-op sensitivity
Famous Twinlight® in periodontal treatment
Multiple applications in orthodontics
PIPS for endodontic 3-D cleaning of the canal systems
Oral surgery
Oral pathology
Implantology
Teeth whitening
and also Photobiomodulation for pain and wound management, just to name a few.
The incorporation of aesthetic handpieces in the LightWalker® ATS was developed in line with world's modern cosmetic dentistry requirement, the complete dento-facial aesthetics considerations in treatment plan.
Apart from regular dental examination, patients at KDC&FA receive full extra-oral examination including skin health check.

Observe® Skin Analysis at KDC&FA
Common concerns such as lines and wrinkles, skin laxity, skin pigmentation can be addressed. Lip Plumping by Smooth-mode of the LightWalker® ATS is one of the favourite procedures that patients at KDC&FA love. #kdcfa #fotona #facialaesthetics

Post-op Lip Lumping at KDC&FA
Modern dentistry cannot ignore the growing knowledge and concerns of Sleep Medicine which has a significant association with dental health and general health.
Undiagnosed sleep associated pathologies, inadequate treatment and prevention creates an astronomical burden to health care systems and productivity around the world.
NightLase© by LightWalker® can assist dentists with improvement in airways obstruction and reducing the severity of sleep apnoea. Combined with other treatment modalities, NightLase© in many instances can successfully treat sleep apnoea.
A gentle yet efficient patented Er:YAG laser deliver just enough heat to induce collagen tightening of the intra-oral soft tissues that obstruct the airflows and open up the airways. It is a great treatment modality for those who snore but do not have sleep apnoea or those who have sleep apnoea but cannot tolerate the CPAP machines and/or the oral appliances.
Assessment for suitability of NightLase© include: Intra-oral examination, questionnaire, sleep screen/study, medical or dental imaging of the airways.
The course of treatment often requires four applications within ten weeks. Annual top-up treatment is necessary to maintain results.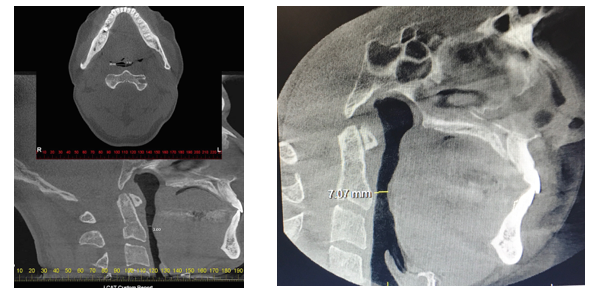 NightLase® Treatment @ KDC&FA – Airways Dimensions Before (3.6mm) and After (7.07mm)
Dr Linhlan Nguyen was one of the eight world first graduates of the Laser and Health Academy (LAHA) Master in Laser Dentistry.
She was awarded Fellow of the International Congress of Oral Implantologists and Fellow of the International Academy of Dental Facial Esthetics (New York).
Dr Linhlan Nguyen receiving her LAHA Master's in Slovenia. Click to enlarge.