CEREC | Ceramic Reconstruction
CEREC® is a way of creating ceramic restorations in the form of inlays, onlays or crowns using the CAD-CAM technology immediately after preparation of the tooth.
The traditional way of making the inlay, onlay or crown seeing our patients have to wait for two weeks while their ceramic tooth being made at the lab.
Today's technology has allowed most of our patients to have their tooth/teeth made and bonded in place on the spot.
Almost 30 years old CEREC® technology has been revolutionized in recent years thanks to the forever improving digital technology together with our better knowledge and better products of ceramic materials.
Kaleen Dental Care & Facial Aesthetics is Canberra's leading provider of CEREC for almost 10 years.
Several thousands of CEREC have been created for our patients.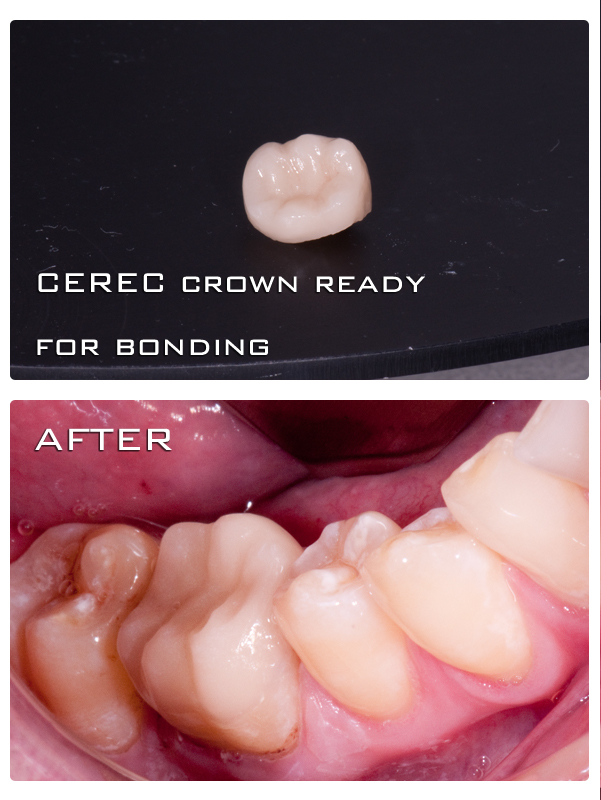 Treatement Details
A fractured  and rotated tooth needed a crown. the alignment was also addressed while the new crown was made on the spot using CEREC®.
The material used was  Emax, the strongest yet very aesthetic ceramic available on the market. The beautiful Emax crown was bonded in place 1.5 hrs later using CEREC.
Click on images to enlarge
Book your appointment today