What is Rapid Smiles®?
Kaleen Dental Care & Facial Aesthetics is proud to incorporate Rapid Smiles® into our range of services. It is a special way of straightening the crowded front teeth in a shorter period of time and at a fraction of the cost of the traditional orthodontic treatment.
The technique was pioneered, tested and proven by Dr Steve Galella, an orthodontist in Memphis, Tennessee USA.
Dr Linhlan Nguyen is one of the first fifty dentists in Australia and New Zealand trained for Rapid Smiles® technique by Dr Galella. She is proud to bring Rapid Smiles® home to Canberra.
Who is suitable for Rapid Smiles®?
Approximately, seventy percent of the population can have Rapid Smiles®
Patients who have no problem with clicking or painful jaw joints (Temporomandibular joint TMJ)
Patients who had orthodontic treatment in the past and suffered from relasps
Patients who have some front teeth crowding and do not want to commit to lengthy orthodontic treatment and therefore contemplating quicker solutions such as ceramic veneers over your crowded front teeth.
With Rapid Smiles® at Kaleen Dental Care & Facial Aesthetics, your teeth can be straightened, whitened and free from being ground down.
Each individual is different and has different needs. We encourage you to make a consultation appointment with us to see if you are a candidate for Rapid Smiles®.
How long is the treatment time?
Treatment time is from 2 and 6 months. You will need to wear some form of retainers to stop your teeth moving back to their original position. The duration and type of retention will be discussed with you in the consultation visit.
Imagine your treatment started in Winter and done in Spring.
The image below shows the before and after 3 months braces with Rapid Smiles®,  at Kaleen Dental Care & Facial Aesthetics, of one of our patients.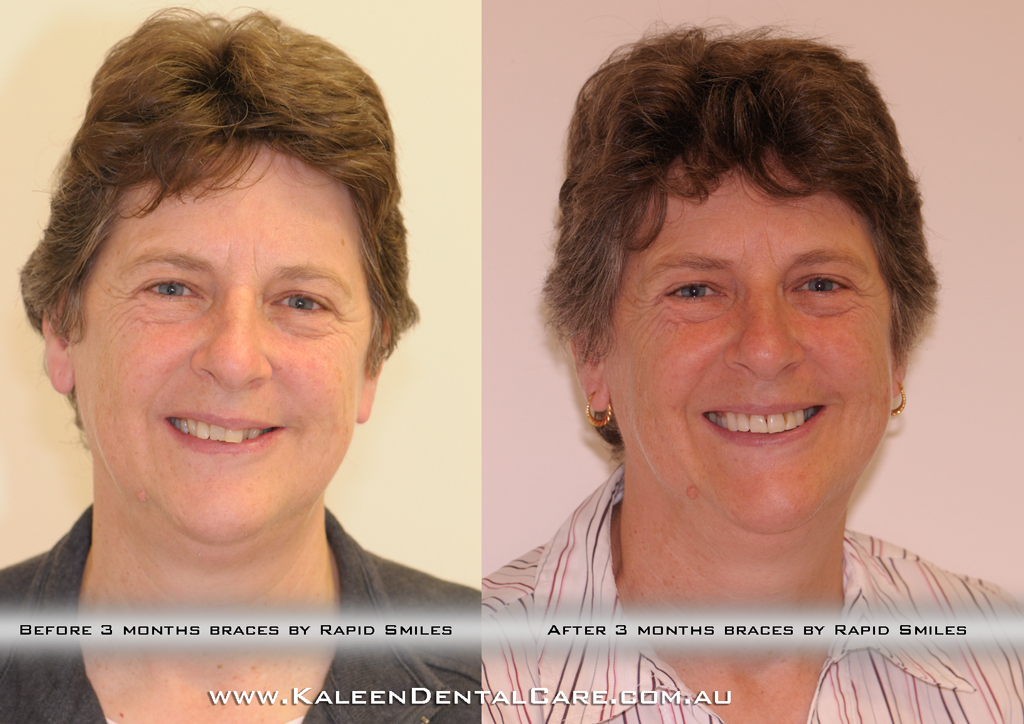 Kaleen Dental Care and Facial Aesthetics
149 Maribyrnong Ave. Kaleen ACT 2617
Call us today: 02 6241 6718